Ebbetts Pass Opening Update
Caltrans crews typically try to have Highway 108 Sonora Pass and Highway 4 Ebbetts Pass open by Memorial Day weekend, but it won't happen this year.  There's just too much snow lingering on the ground and too much damage being uncovered.  With cold overnight temperatures at higher elevations, the snow melt has been slow.
Caltrans reports that both passes are "experiencing extremely heavy, tightly packed snow with high water content." Also slowing their progress is flooding from deep snow melt-off. Caltrans provided this update on those roadways' conditions: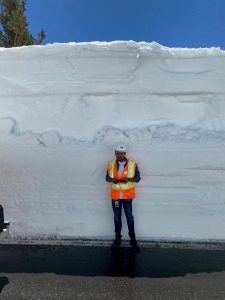 Highway 108 Sonora Pass, in Tuolumne County:
District 10's (Alpine, Amador, Calaveras, Mariposa, Merced, San Joaquin, Stanislaus, and Tuolumne) Long Barn crew and District 9's (Inyo, Mono and Eastern Kern County) crew are approximately 4 miles apart.
Highway 4 Ebbetts Pass in Calaveras County:
District 10's Woodfords crew is 1 mile past the top and approximately 10 miles from the Camp Connell crew.
Sonora Pass remains closed from Kennedy Meadows to 9.5 miles west of Highway 395, while Ebbetts Pass is closed from the east end of Lake Alpine to Willow Creek. Caltrans advised, "There is no estimated time of reopening."
Highway 120 Tioga Pass, managed by Yosemite National Park, will also have a delayed opening this year.  Crews there are also experiencing deep snow, and last week crews headed to Olmsted Point to do blasting in the avalanche zone. There is also no slated opening for this highway.